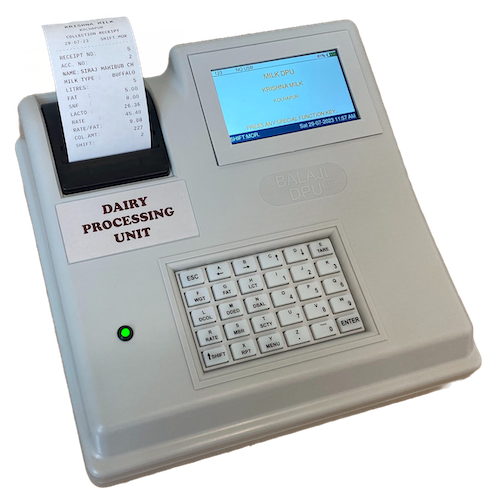 We had developed and manufactured complete system of milk data processing unit with brand name BALAJI DPU. This captures data from weighing scale and milk analyzer device and transfer data to digital as well as printer display. The generated receipt capture milk information i.e. FAT, SNF, Qty as well as maintain ledger for customers .This BALAJI DPU model is available with built-in features including GPRS, SMS and Language.
Processor
1 Ghz Arm Cortex Dual Processor
Ram
1GB
Flash
4 GB Emmc
Ext.Slot
Micro SD With Supporting min.8 GB (optional)
Operating System
Secure Linux OS
Display
4.3 inch Colour Display
Keypad
30 Key Keypad
Printer
2 inch thermal printer
Communication
4 nos RS232 port
1 nos USB port and ethernet port
GRRS/Wi-Fi/Bluetooth
Power
Power Adaptor with surge protection with operation range
100V to 240V,50 Hz AC Input
Battery
7.4 V 2200 mAh. Can print upto 400 receipts when fully charged.
| | |
| --- | --- |
| 1 | Capture Fat/SNF from milk analyzer and weight scale |
| 2 | 5000 member accounts with cattle type (Cow/Buffalo) |
| 3 | Three Type Rate Chart |
| 4 | Fat rate Chart |
| 5 | Rate Chart upload through computer/Pen drive or Through manual keypad |
| 6 | 4.3 inch colour display for dispalying member code,Fat,Qty,and amount |
| 7 | Internal / External printer support |
| 8 | Member Bill printing in any local language possible |
| 9 | Member ledger with collection and deduction entry |
| 10 | Storage |
| 11 | 12 monts data collection |
| 12 | 2 years daily sales report |
| 13 | Password protection for manager and users |
| 14 | User friendly oprations |
| 15 | Rugged to work in a rural conditions |
| 16 | Instant Transmission of data through pen drive |